I have to give props to my friends in Las Vegas for "KEEPING THE SCENE ALIVE!!!!". Mr. Donald Hickey has seemingly seen it all. Fashion comes and goes, but I am always proud of being from the neon desert. And from this special place and person comes a rad downloadable radio show. Live on Sundays in Vegas, but listenable any old time for you in other places:
(NEON REVERB RADIO)
I know the punk rock pinup thing should maybe only apply to musicians or whatever, and probably only be monthly, BUT... I'm super horny most of the time. So why not make it weekly/whenever I just can't get that person making me (good) ITCH with ecstasy out of my head? Today's current drool-induce master is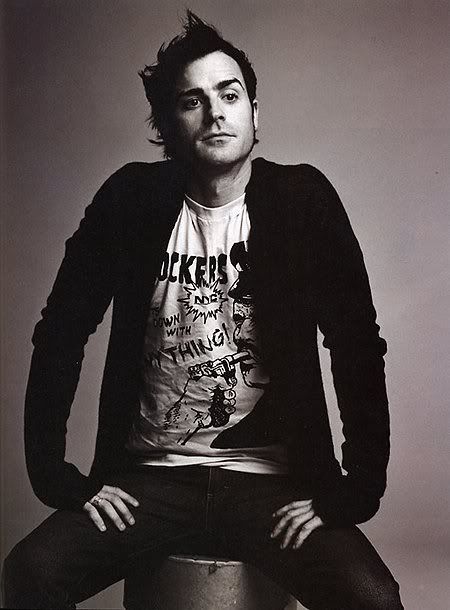 (Justin Theroux)
NEVERMIND that every girl he is photographed with is matchlessly beautiful. The fact that they all seem to be brunette and slightly ethnic looking give me some xmas bulb-like hope. I'm going to pretend that when I get home he'll be there waiting for me with a bottle of champagne and some tacos he just made, ready to cuddle me and let me stare at him for the rest of the evening.
Do you want to go swimming with sharks in South Africa? Fake skydive in Las Vegas? Meet strangers on a train in Asia? Record a record in Jamaica? Even if you had never thought about doing any of these activities before, now is your chance so what the HELL?:
(DIESEL WANTS YOU TO BE STUPID)
. I mean, most of you are taking lame pictures of yourselves anyway, so why not have it help your chances of going on some bomb-ass adventure? Oh, word.