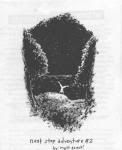 I bought Next Stop Adventure #2 from the author, Matt Gauck, who was manning the merch table at a Circle Takes the Square show in Las Vegas. It's an impulse purchase I don't regret because, months later, this account of his meandering , barely-planned bicycle trip from North Carolina to Oregon kept me entertained for two snow-bound days in a Flagstaff Quality Inn.
Throughout the low-budget cross-country ride and a few flashbacks, Gauck trespasses, dumpsters and scams his way into food, shelter and Lollapalooza. I don't want to tell you how it ends but I will say I don't think he's sorry yet.
The little book features charming illustrations and a self-deprecating sense of humor. The humor makes this zine worth reading even if you don't give a damn about bikes or adventure. And the total lack of a DIY-er-than-thou attitude may just subtly influence you to start taking an interest.
In sections with such titles as "Incredible Moments in Vagrancy," Gauck freely admits that much of what takes place, and perhaps the plan itself, is sheer idiocy. Then he gently reminds the reader that, yes, he or she can do it too.
This publication approves.
BIPL is now eagerly checking the mail for Next Stop Adventure #1.
You can get it from Microcosm Publishing:
http://www.microcosmpublishing.com/catalog/zines/2231/
Or from the author:
www.thedreamerandthefool.com