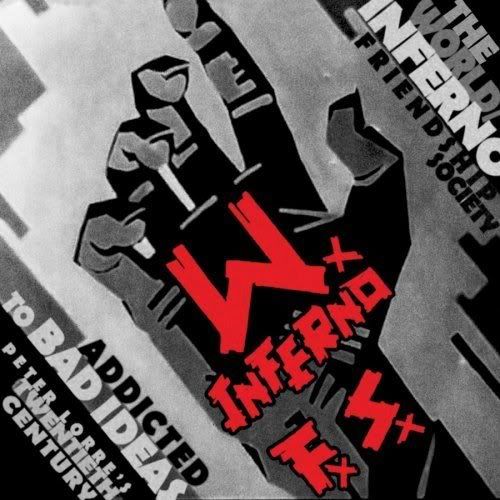 I could barely believe my ears when World/Inferno Friendship Society released an album actually called
Addicted to Bad Ideas
. No band has influenced BIPL as World/Inferno has. We don't know what they would have to say about that but we aren't really concerned either. I was skeptical about these purported anarcho-cabaretists before they played the Double Down in Las Vegas. And, while the band didn't break anything (during the set at least), they did bravely cross the forbidding desert to reach us on a Tuesday night and after the show lead singer, Jack Terrycloth, taught my friend Jamaal to waltz. I was inspired.
And now the mad punk orchestra from Brooklyn/New Jersey has given us this. It's a biographical concept album dealing with the life and times of Peter Lorre. You know. The creepy guy from
Casablanca
. The lyrics contain the grand justification/raison de etre: "Because I can/There's no one to stop me/Because it makes up for things I lost/Because I'm addicted to bad ideas and all the beauty in this world/" set to a typically swooney, swelling melody. Bask in the liberation of deeply-flawed logic. No, really. Sometimes it's the only way.
I am forever indebted to BIPL advice columnist, Hank Musgrove, for introducing me to this band. Notably, lead singer Jack Terrycloth also has an advice column which can be read on the band's website. Coincidence?